An inventory of new and new-ish books ordered, received, or merely contemplated:
Laurel Snyder has published her first full book of poems,
The Myth of Simple Machines
:
The cover reminds me of the first time I met Laurel, when Peter Manseau and I went through Iowa City on our
Killing the Buddha
book tour. We knew Laurel through her online work for
KillingTheBuddha.com
, which began, I think, with her Yom Kippur prayer,
"To Pardon All Our Fucking Iniquities."
Laurel put us up, guided us through a blizzard to find novelist Marilynn Robinson's church-basement Bible-study, courageously waded into a dogfight from which we cowered, and strongly recommended James Thurber's
The 13 Clocks
, the brilliant Marc Simon cover of which -- the one Laurel's new cover brings to mind, in style if not subject -- I can't find online. I've been friends with Laurel since, have written
for her
, published her, and have heard her read from her first chapbook
really
of poems,
Daphne and Jim: A Choose Your Own Biography in Verse
. Sound like a terrible idea? Consider the possibilities: "For a bird's eye view of the death of the sixties, turn to page 20. To follow Jim to Norway on snowshoes, turn to page 5." It's not a gimmick. Well, yes, it is, but one that transcends the gag. In
Daphne and Jim
Laurel does something unusual with parent biography, using the form of a children's literary experiment (Thurber should clue you in that Laurel loves children's literary experiments) to consider seriously choices made and not made, the lives her parents might have led and might have preferred, and her own repetition of their mistakes, wrong turns, and lucky chances.
But enough about
Daphne and Jim
; the event of today is the beautifully-titled, beautifully-jacketed
Myth of Simple Machines
, which I will have more to say about when my copy arrives.
***
I'm also eagerly awaiting my finished copy of Alex Rose's
The Musical Illusionist
, to which I contributed a blurb after reading it in galleys: "
The Musical Illusionist
is literally marvelous, a curiosity cabinet of wonders and conundrums and mechanical miracles. Alex Rose sets his discussion of impossible cities, absurd mathematics, and books of weird science in the Library of Tangents, and for that he'll be tagged as in the tradition of Borges. But he's no Borges; he's Alex Rose. 'The world repaginates,' writes Rose, and so it does with this splendid collection of stories."
You can get it on Amazon, but better to go directly to its small press publisher, the excellent
Akashic Books
, which describes itself as "reverse-gentrification of the literary world."
***
The annual Best American Short Stories series might be described as full-speed ahead gentrification, but this year's edition features an inspired choice of an editor in Stephen King, a cranky, bitter, smarter-than-you'd-think, not-quite-as-smart-as-he-thinks kind of guy who doesn't give a damn for propriety. My review of the table of contents bears out King's angry introduction, in which he rails against the relegation of short fiction to journals filed at foot level in big box store bookshelves: Although I've read novels by several of the contributors, I managed to get through 2006 without reading any of these stories. Now I've corrected that oversight by one: Stellar Kim's "Findings & Impressions," brought to my attention by the presence of Stellar herself in the cabin closest to mine at the MacDowell Colony this past September. This is her first published work, which makes it all the more impressive a departure from the maudlin self-therapizing that afflicts so much contemporary fiction. Some notes I made on first reading it:
Told from the perspective of a middle-aged single dad widower radiologist (narrative broken up as if he's filing a report), about his formation of a friendship and abandonment of a patient consumed by cancer. Story begins with the patient's breast on a plate, progresses to a mid-treatment backyard party at her house, to his withdrawal from the friendship – veering toward relationship – to her death. At first I thought the story was simply a very fine technical exercise – a manipulation of emotion in a classic situation, the sterility of medicine contrasted to the grind of grief. But then I realized that the radiologist is a more complicated character, that Stellar has threaded through his account undercurrents of more subtle grief, and vanity. The radiologist tells the patient he has to back off because his son can't stand to lose a mother figure so soon. (This is how the patient learns that she's likely to die.) That's true, in part, and reveals the incompleteness that's now part of the whole of the man.
But it's also a lie, and the patient knows this. The only other relationship the radiologist has had since his wife's death in a car crash is a brief, mostly sexual liaison with a lingerie model. Not his ordinary speed, he tells us, but looking back the reader remembers that his dead wife was a TV reporter, glam and blonde. He's lying, to us and himself, for a variety of reasons, not the least of which is a physical vanity of which he's ashamed. But then, that brings us back to grief – his son, Nick, staring at his mother's blonde replacement on the TV news, trying to figure out how to get to her in the box. The radiologist's memory of her has been split in two, the body of the model and the human-ness of the dying patient. He rejects both. The model returns to the Sunday advertising pages; the patient goes to the grave. The radiologist is left with nothing but "findings."
***
When I left MacDowell, Stellar and some of the other residents (they're called, unfortunately, "colonists") gave me as a present two Jesus books (in irony) and, in mockery (gentle, I think) of the fact that when I was a boy I once went to "magic camp,"
Magic Tricks & Card Tricks
, by Wilfrid Jonson (1950). I'm not sure if you could learn how to do a magic trick from Jonson's casual, digressive narrative, but his asides are surely more valuable than his instructions for "The Flying Dime," "The Afghan Bands," or the intriguingly-titled "Patriotic Balls."
"We think it is time to speak to you now about
PATTER,"
writes Jonson, "the words a conjurer uses when he is performing, which are not always so unconsidered as they may seem. There is a fashion at the moment, a fashion which we think is on the wane, for conjurers to be also comedians or, at least, for conjurers to attempt also to be comedians, for many of them are very sad comics.... A century ago people would flock to see anything that was marvellous, anything they could not understand. The few conjurers of the time, in spite of the profound limitations of their technique, had no difficulty in holding the attention of their audiences, to whom their tricks were astonishing and inexplicable mysteries, and they presented their feats seriously. Then came the twentieth century, with its scientific revolution, to produce a public surrounded always by inexplicable mysteries and satiated with marvels.... We mention all this to reassure you. It is not necessary to be a comedian to be a conjurer."
***
Books received, not cared about:
Denis Johnson,
Tree of Smoke
, FSG's big fiction entry for the fall: first 40 pages filled with sentences stolen from DeLillo, their serial numbers sanded down. I'm probably in a very small minority in believing that Johnson's most interesting work isn't this doorstop
or
his legendary short stories, but his nonfiction.
John Gray,
Black Mass: Apocalyptic Religion and the Death of Utopia
, FSG's heavyweight nonfiction entry. Declaring the death of utopia is like announcing the end of history, a neocon habit Gray, a British philosopher, rightly mocks. But he's lost in the thickets of American religion, a major concern of the book: Philosophers almost always fail to deal with that subject adequately, since they depend primarily on secular filters for their accounts of traditions biased toward experience.
Jonathan Lethem,
Omega Man
, a comic book. Oh, sadness: the author of best writing about kids and comics ever --
Fortress of Solitude
can't write comics themselves. Back, Lethem, back! To the pages of black letters in neat rows, images implied only. Comic books should be simple. Like Mike Mignola's B.P.R.D. series, my favorite comic book right now. Monsters! Friendly mummies! Wendigo! Tragedy, starkly drawn.
***
"Broward County, Florida," a nonfiction story Peter Manseau and I wrote for
Killing the Buddha: A Heretic's Bible
, lacks a Wendigo, but there is a monster, a (sad) mummy, and tragedy, starkly drawn, which is perhaps why it appealed to Russ Kick, editor of the Disinformation series, the latest volume in which is
Everything You Know About God is Wrong: The Disinformation Guide to Religion
. Kick is heir to Adam Parfrey's "Apocalypse Culture," but he's less interested in the purely bizarre than in work that's sneakily subversive. Besides our "Broward County" -- which can fairly be called sneaky, since we worshipped at full volume with a church bent on murder and then wrote about the horror, theirs, ours, maybe God's -- there's good stuff from the little-known
Sex Life of Brigham Young
, Mark Twain's anti-religious rant, and work by comic book polytheist Neil Gaiman.
I make the "honorable mention" list in David Foster Wallace's
Best American Essays, 2007
for my November 2006 Harper's story, "Through a Glass Darkly," but I can't complain since it's a pretty good list, and led off with a new essay I'd missed by Jo Ann Beard, "Werner." Not online, unfortunately, so I'll have to sit around the bookstore cafe reading it, since I'll be spending my money on a new copy of her only book,
The Boys of My Youth
, published nearly ten years ago. I've loaned it out twice since, and lost it twice.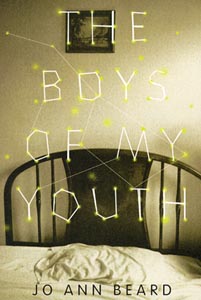 (Reward for safe return. No questions asked.)